If you find another car check service that offers more than we do for less, we will give you your money back.
Looking to buy a used car?
Stop. Don't buy a Dodgy Car. 
Make sure you get it checked. 
There are a lot of car checking websites which offer 'cheap' or a free check. However when it comes to finding out some of the important information you end up paying extra. Car Guide is different. With our Buyer's Report you get all the information you need, more data than anyone else and we will guide you through the buying process. 
Car Guide offers the most comprehensive car check on the market.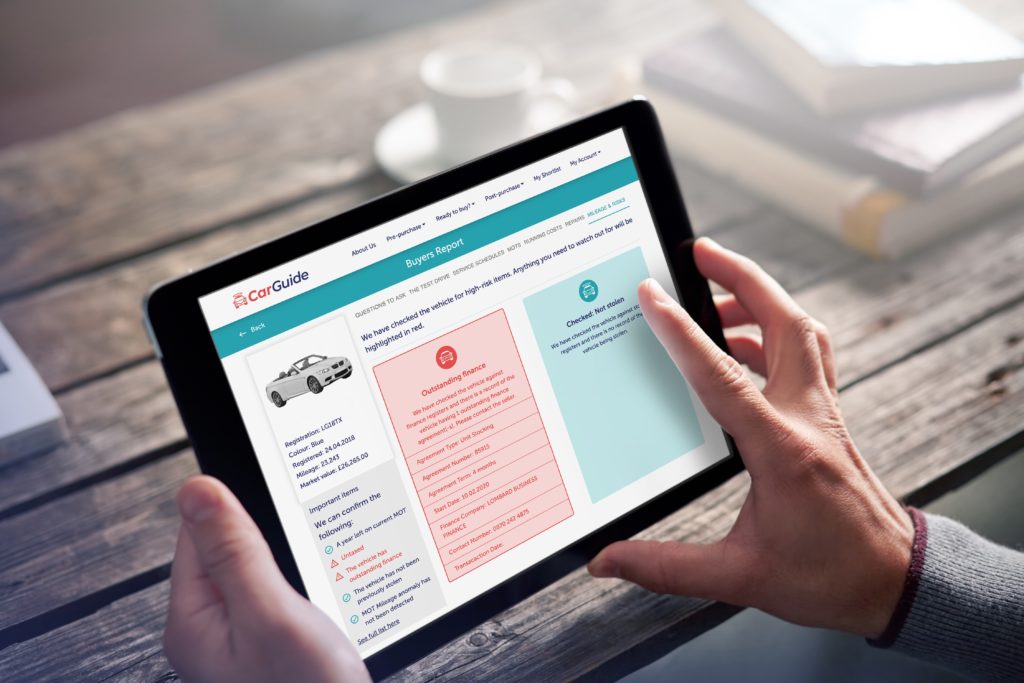 What can Car Guide answer
(that other car checks can't)?
Other Car Checks VS Car Guide
Unlike other car checks, we help you predict your car's future.
While other car checks' paid reports offer valuable information about a vehicle's history, there's one thing that they can't do. Predict the future.
Car Guide offer everything included in an HPI check, and then some. Our AI-powered platform scours 900 million data points, uncovering potential running costs, parts needing replacement, and future MOT failures. So you're empowered to make the most informed decision as a buyer – not just for today, but for tomorrow, too.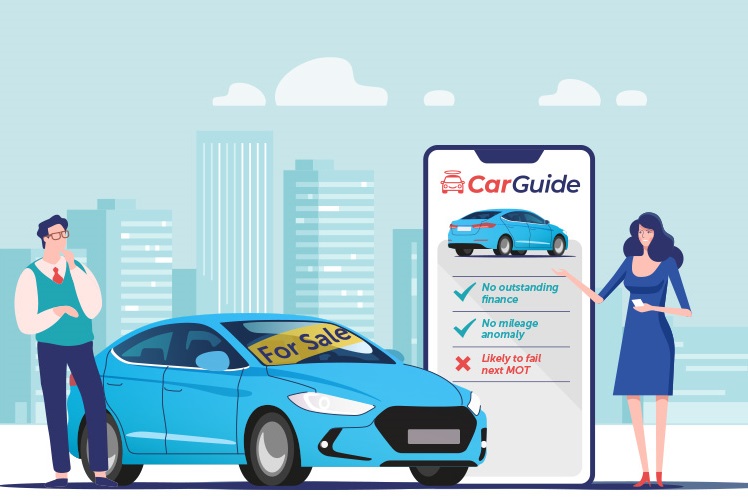 Car Guide offers more insights - at a lower price.
Try out our free car check or get more data with our flexible paid plans. The choice is yours.
| | | | |
| --- | --- | --- | --- |
| | | | |
| | | | |
| This includes finance, stolen, written off and everything else you need to know about buying the right car. | | | |
| Will show details of the agreement terms and company if the vehicle is on finance. | | | |
| Shows if the vehicle is marked as stolen or has previously been written-off. | | | |
| Compare the specs of used cars from any website | | | |
| Shows what services should have been done on the car and any that are due in the future. Includes cost, mileage and major servicing parts. | | | |
| Shows what repairs should have been done on the car and any that are due in the future. | | | |
| The number of basic car checks included in our products. | | | |
| Our unique platform will show you what a vehicle is likely to have issues with at it's next MOT. | | | |
| Shows you the full MOT history of the vehicle. Supplied directly by the DVSA. | | | |
| Shows you if the vehicle has been a taxi or private hire vehicle in the past. These vehicles can have unusual wear and tear and are normally high mileage. | | | |
| Shows you if the vehicle has been through a salvage sale normally used by Insurance Companies to dispose of vehilcles that are beyond economical repair. | | | |
| Everything you need to know about a vehicle from BHP to CO2 emissions. | | | |
What sets us apart from other car checks?

AI predicts the future
An AI-powered platform analyses 700m+ data points, predicting running costs and component failures.

More than a car check
We don't just provide you with new information. Our platform will guide you through every step of the buying process.

Compare different vehicles
Shopping around? Our platform lets you analyse your favourite vehicles side-by-side so you can make the right choice.

Negotiate the best deal
An in-depth buyers guide helps you spot the right issues and get leverage for the best deal possible.
We believe we offer more checks on a used car than any other car checking site in the UK. Plus, we're cheaper.
If after buying your report you find any site offering more for less, simply get in touch and we'll refund you the price of a report, simple!
25,000+ informed car buyers love Car Guide
I wasn't sure on which website to use when it came to inspecting a used car. I'm so glad I chose car guide, the handy tips on what to inspect on the car is a massive help in making sure it's right. I'm also glad I used this website as I didn't know it had outstanding finance.
I love Car Guide as it's sensibly priced and gives all the required info in a clearly laid out format. It's the first time I've used Car Guide and will be doing so whenever I buy or consider buying a car in the future.
Out of all the services that I have used over the years to check the background of any vehicle of my interest, car guide is by far the best one. Thorough information provided upon doing a vehicle search and price friendly. I would recommend it.
The reason why I love car guide is that report is well displayed, easy to read and also gives me a lot of information before buying a specific car and also telling which parts of the car will likely fail in the next MOT test. This has been really helpful and without this I don't think I would be able to buy good and reliable car.
Car Guide provides an interesting service with its bespoke report. The "Repairs" section of the reporting, that crosses data between the car's MOT history and its expected maintenance schedule, is extremely useful
Car Guide is one of the most truest site to look for history on your car it's quick and easy to use and in seconds the go story comes up very happy with my choice thanks car guide
Check any vehicle's past and future for free today
Just enter the registration number. You'll receive a free report in seconds. Easy as.
Just enter your Car Registration below
Tell us when you're buying the car so we can show you the most relevant info